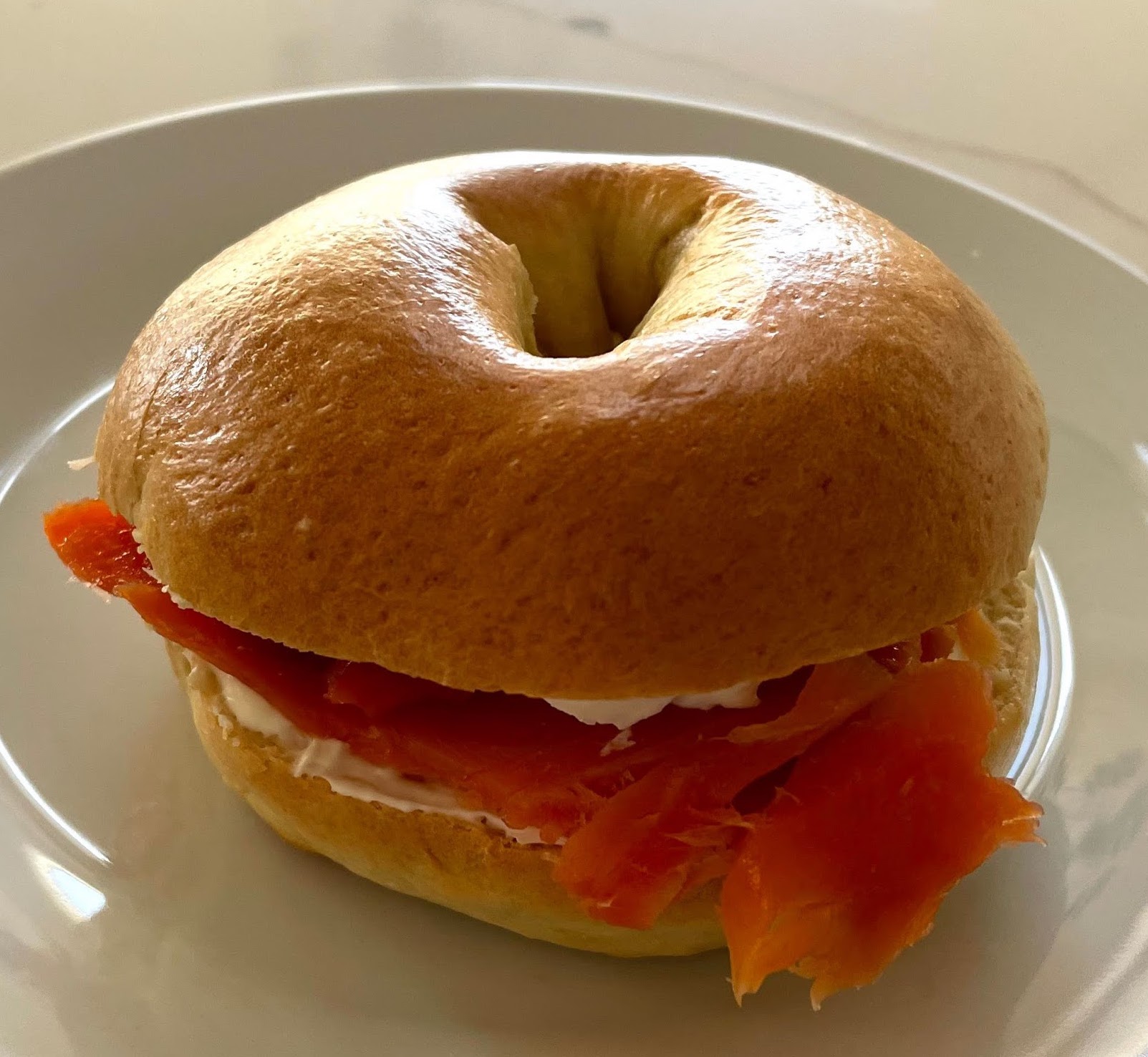 Bagels, the way they make them in the Big Apple. Recipe makes 8 bagels.
Ingredients
500g bread flour
23g baker's sugar
7g packet of instant yeast
297g water at 32C/90F
6g salt
1 egg
Seasoning if desired (e.g. poppy seeds, sesame seeds)
Steps
Bloom the yeast in the water and dissolved sugar, 10 mins
Add bloomed water/yeast to the flour and salt and mix to form a rough dough
Knead 10 mins
Leave to rise for 1 hour / until roughly doubled in size in an oiled bowl
Turn out dough and cut into 8 equal pieces
Form each piece into a ball, building tension on one side by folding edges over center ~8-10 times
Rotate, seam side down, by hand on an unfloured surface until a smooth, even ball is formed
Preheat oven to 425F
Pinch thumb and forefinger in center of ball, spin on fingers to form hole and stretch out to 1 inch in diameter
Repeat for all 8 pieces of dough
Bring enough water to boil to fully cover bagels
Boil several at a time without crowding, 2 min each, flip half way through (1 min each side)
Drain excess water by placing on a cooling rack out of the pan
Arrange bagels on roasting tray lined with parchment paper. Brush with egg glaze (1 egg plus 1 tbsp water)
Add seasoning if desired (e.g. poppy seeds, sesame seeds,
Bake for 20 mins (until golden brown on top)
Serving
I like my bagels plain with smoked salmon.
Notes
Dough can be made the evening before baking and placed in the fridge overnight (follow steps 1. -> 4., put bowl in fridge, follow 5. -> 16. in the morning).
Plain bagels work pretty well without the egg glaze, but definitely use egg glaze if seasoning.
Next time
Merch
Buy a fridge magnet with the ingredient list.