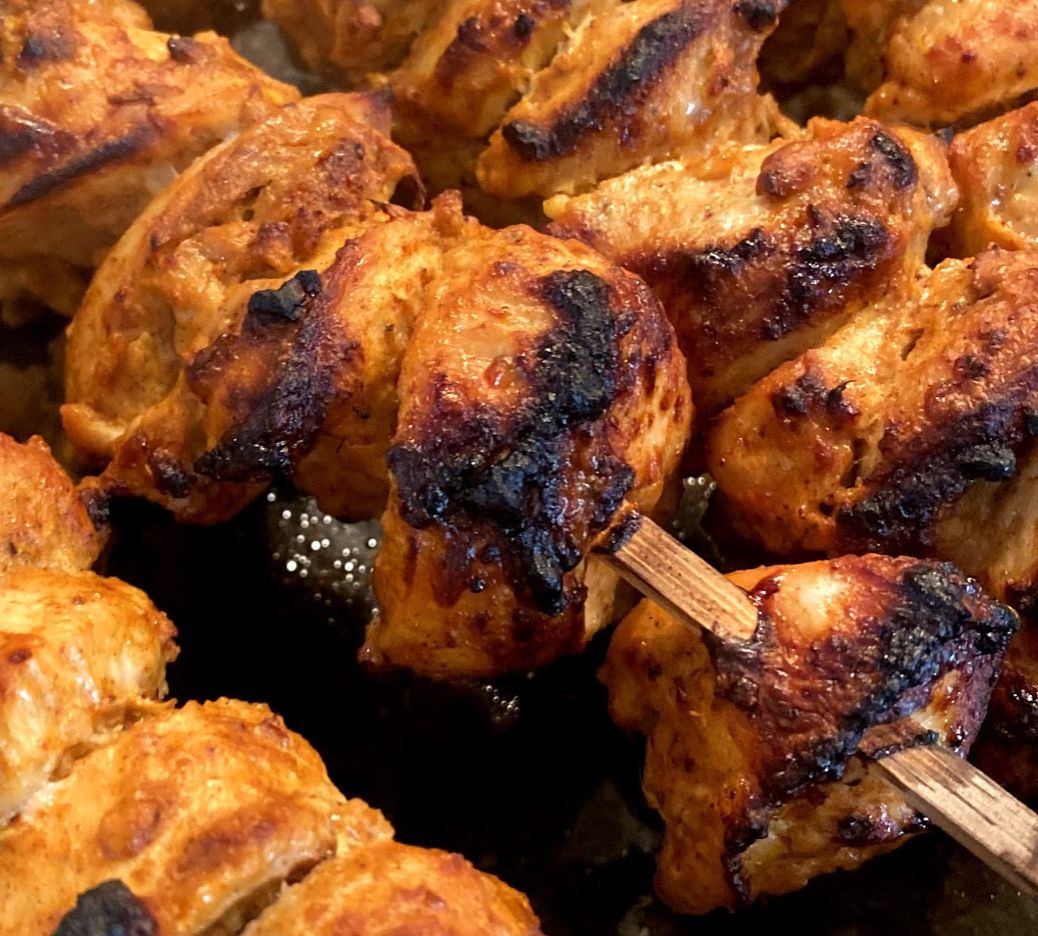 Authentic Chicken Tikka Masala. Authentic to British takeaway curry houses, that is.
Ingredients
Marinade
2 chicken breasts, 2 chicken thighs, diced
1⁄2 cup plain yoghurt
juice of 1⁄2 lemon
6 cloves garlic, minced
1 tbsp minced ginger
2 tsp salt
2 tsp cumin
2 tsp garam masala
2 tsp paprika
Sauce
1 large onion, finely chopped
3 tbsp ginger, minced
8 cloves garlic, minced
2 tsp salt
2 tsp cumin
2 tsp turmeric
2 tsp ground coriander
2 tsp paprika
2 tsp chili powder
2 tsp garam masala
1 tbsp tomato purée
1 400g can tomato sauce
1 1⁄4 cups water
1 cup heavy cream
Steps
Slice the chicken into bite-sized chunks. Combine the cubed chicken with the yogurt, lemon juice, garlic, ginger, salt, cumin, garam masala, and paprika and stir until well-coated.

Cover and refrigerate for at least 1 hour.

Preheat the oven to hottest setting (500F, 260°C).

Place the marinated chicken pieces on wooden skewers, then set them over a high sided baking pan.

Bake for 15 - 20 minutes, until edges of cubes are charred. Check center of cubes reaches 75C.

Make the sauce: Heat the oil in a large pan over medium heat, then sauté the onions, ginger, and garlic until tender. Add the salt, cumin, turmeric, coriander, paprika, chili powder, and garam masala and stir constantly for about 30 seconds, until the spices are fragrant. Stir in the tomato puree, tomato sauce, and 1¼ cups of water, then bring to a boil and cook for about 5 minutes. Pour in the cream.

Remove the chicken from the skewers and add to the sauce

Garnish with cilantro.
Serving
Serve with rice and naan.